Jerez Airport Arrivals (XRY)
Not all flights may be showing. If not available use search above to find your flight by airline, airport or flight number.
Origin
Airline
Flight no.
Scheduled
Est./Actual
Status
No flight arrivals were found at Jerez Airport.
Flight Arrivals at Jerez Airport
Jerez Airport has provided international passenger services since 1968. In 2018, passenger traffic handled by the single terminal buildings amounted to 1,133,621 travelers, a considerable increase since the airport's modest beginnings as an airfield in 1910. The cities of Jerez de la Frontera and Cadiz are located just 15 and 35 minutes away by car thanks to motorway connections via the A-4 and A-5 routes. Regular bus and train services offer arriving passengers plenty of choice for onward travel.
Arrivals are handled on the ground floor of the airport, where passport control, baggage reclaim, airport desks for lost baggage services, and customs are located too. Jerez Airport links the Cadiz province with European cities like Barcelona, Bilbao, Brussels, Berlin/Tegel, Bern, Cologne-Bonn, Hamburg, Frankfurt, Madrid, Munich, London and Zürich. Palma de Mallorca is also one of the routes offered from Jerez Airport, which makes exploring different parts of Spain during a longer holiday easy.
Airlines with sales desks at Jerez Airport include Brussels Airlines, Easyjet, Eurowings, Iberia, Ryanair and Tuifly.
In the general terminal lobby passengers leaving their arrivals zone will find a cafeteria, a newsagents selling newspapers and magazines, gifts, souvenirs and food. On the first floor of the terminal there is also a bar-restaurant serving drinks, snacks and menu meals to Jerez Airport arrival passengers.
Transportation from Jerez Airport
Car rental stations are located in the arrivals lobby, where Avis/Budget España, Firefly, Goldcar, Enterprise Rent-A-Car, Europcar, Hertz and Sixt offer a wide range of choice from their fleets. The airport car parking area is within a couple of minutes' walk of the terminal. This is where passengers with a car hire reservation will pick up their vehicles.
A taxi rank is right outside the terminal building. Tele Taxi Jerez are the official companies for transfers between Jerez Airport and cities and villages in Cadiz province.
Taxis are available around the clock, every day of the year. On the route between the city and in central Jerez de la Frontera the company applies inter-city rates, so the minimum fare is 4.00 euros, and a trip into Jerez de la Frontera costs 25.00 euros. The trip takes just 15 minutes, because the airport lies only 8 km northeast of the city and is connected to destinations in Cadiz province via the motorways A-4 and A-5. A typical journey to Cadiz city costs around 65.00 euros and takes ca. 35 minutes.
Please see http://teletaxijerez.com/tarifa for tariffs. A pre-arranged Jereze de la Frontera transfer with other companies can cost ca. 34.00 euros in a private taxi, or 56.00 euros in a minivan seating up to 8 people. Travelling to Seville in a private taxi costs from 155.00 euros for two passengers and their luggage, or 8 passengers sharing a minivan for 199.00 euros in total.
Single trips for two people sharing a private taxi to Conil de la Frontera from 26.40 euros, Novo Sancity Petri from 22.00 euros, Chiclana de la Frontera from 22.00 euros and El Puerto de Santa Maria from 42.26.
Buses from Jerez Airport
Regular bus services leave Jerez Airport for Jerez de la Frontera, El Puerto de Santa Maria and Cadiz city at regular intervals during the day and evening. It takes a. 30 minutes by inter-city bus to get to Jerez de la Frontera, and ca. 1 hour and 15 minutes to reach Cadiz. Jerez Airport buses also travel to villages like Chipiona and Sanlúcar de Barrameda, and Costa Ballena in Rota.
A single bus ticket to Gualdacin or Jerez de la Frontera costs just 1.40 euros, or 0.89 euros with a travel card. A single ticket to Cadiz cost 3.85 euros, or 2.86 euros with a travel card.
The first MD bus leaves Jerez Airport at 07.39 hours, arriving in Jerez city at 07.56 hours, and in Cadiz at 08.26 hours. The final MD bus leaves the airport at 22.48 hours, arriving in Jerez city at 23.05 hours, and in Cadiz at 23.35 hours.
Trains from Jerez Airport
Jerez Airport's train station lies to the west of the terminal, opposite the car park. Local and regional trains operate on a regular basis, starting at 07.26 hours from Jerez Airport, arriving at the city of Jerez de la Frontera at 07.45 hours, and the city of Cadiz at 08.20 hours.
RENFE commuter train C-1 serves the route Cadiz, San Severiano, Segunda Aguada, Estadio Cortaduro, Bahia Sur, San Fernando, Puerto Real, Las Aletas, Valdelagrana, El Puerto de Santa Maria, Jerez de la Frontera and Estacion FC Aeropuerto (Jerez Airport station).
Tourist Attractions
The official tourism site of Spain's Tourist Board, provides useful information on a range of things to do and see in Cadiz province. Cadiz and Jerez don't seem to offer city passes any more, but it's possible to buy one for Seville, about one hour and 15 minutes' drive from Jerez de la Frontera, if you're planning to hire a car at Jerez Airport. The city pass offers discounted admission to many attractions in Seville. It costs 52.50 euros per person.
Was your flight delayed or cancelled?
You may be eligible to receive up to 600 EUR compensation per person in your party..
Claim Now!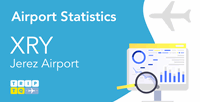 Jerez Airport Passenger Traffic Rebounds by 13.94% in Q3 2023 versus Q3 2020 and 2023 Figures - Pre-Pandemic Numbers Still A Challenge