Jerez Airport Departures (XRY)
Not all flights may be showing. If not available use search above to find your flight by airline, airport or flight number.
Destination
Airline
Flight no.
Scheduled
Est./Actual
Status
No flight departures were found at Jerez Airport.
Flight Departures at Jerez Airport
A single terminal serves both departures and arrivals at Jerez Airport, which opened to international passenger services in August 1968. The city of Jerez de la Frontera is located just 8 km distance to the northeast. Seville and Cadiz both lie within an hour and 15 minutes of Jerez Airport, and the motorways of the A-4 and A-5 open up the rest of Cadiz province to visitors. Jerez Airport handled 1,133,621 passengers in 2018, seeing steady increase in passenger numbers over the years thanks to budget airlines making the airport their hub in southern Spain.
Run by airport authority AENA, Jerez Airport offers flights with airlines like Brussels Airlines, Easyjet, Edelweiss Air, Eurowings, Helvetic Airways, Iberia, Ryanair and Tuifly as well as Vueling. City destinations offered include Brussels (seasonal), Berlin Tegel, Bern, Cologne-Bonn, Düsseldorf, Hamburg, Frankfurt, Hannover, Munich, Madrid, Stuttgart and Zürich, as well as London (Gatwick and Stansted).
The departure area is located on the ground floor of the terminal. Passengers should arrive at least two hours prior to their flight's departure to allow for enough check-in time.
The general lobby presents passengers with a number of amenities, for example there is a shop selling food, newspapers and magazines, souvenirs and gifts. A cafeteria in the arrivals area on the ground floor and a bar-restaurant on the first floor offer refreshments and snacks.
Transportation to Jerez Airport
Car Hire
In Jerez de la Frontera, overlooking Plaza de la Estacion, a Thrifty office provides car rental. Open from 8.30 to 14.00 hours, and from 17.00 to 20.00 hours on Mondays, Tuesdays, Wednesdays and Fridays, the office is open on Thursdays from 8.30 to 14.00 hours and offers late night opening from 17.00 to 23.30 hours. On Saturdays the Thrifty office opens from 9.00 to 14.00 hours. The Thrifty car hire station can be contacted on +34 607 06 01 45.
A Sixt car rental station is also located at the train station's plaza in Jerez de la Frontera. The Sixt office is open every day from 8.00 to 21.00 hours and can be contacted on Tel +34 902 49 1616.
Car hire companies offering their services at Jerez Airport include Avis/Budget España, Firefly, Goldcar, Enterprise Rent-A-Car, Europcar, Hertz, Sixt and Thrifty. Drop off is at the parking area opposite the terminal. Thrifty, see above, allows for after hours returns.
Buses and Trains
Regular train and bus services leave Jerez de la Frontera, El Puerto de Santa Maria and Cadiz city throughout the day and evening. It takes a. 30 minutes by inter-city bus to reach Jerez Airport from Jerez de la Frontera, and about 1 hour and 15 minutes for a bus to reach the airport from Cadiz.
Bus lines also connect the airport with villages like Chipiona and Sanlúcar de Barrameda, and the area of Costa Ballena in Rota. A single bus ticket from Gualdacin or Jerez de la Frontera costs just 1.40 euros per person, or 0.89 euros with a travel card. A single ticket from Cadiz cost 3.85 euros per person, or 2.86 euros with a travel card.
First MD bus services leave Cadiz at 05.40 hours, arriving at Jerez de la Frontera at 06.10, before arriving at Jerez Airport 06.24 hours. The final MD bus of the day leaves Cadiz at 18.40 hours, arriving at Jerez de la Frontera train station at 19.05, before reaching Jerez Airport at 19.21 hours.
The RENFE commuter train C-1 covers the Cadiz, San Severiano, Segunda Aguada, Estadio Cortaduro, Bahia Sur, San Fernando, Puerto Real, Las Aletas, Valdelagrana, El Puerto de Santa Maria, Jerez de la Frontera and Estacion FC Aeropuerto stations.
The C-1 commuter train (RENFE) leaves Cadiz city at 06.15 hours, arriving at Jerez de la Frontera's train station at 06.40 hours, and at Jerez Airport at 07.09 hours. The last C-1 train leaves Cadiz at 18.11 hours, arriving in Jerez de la Frontera at 18.36, and finally at the airport at 19.05 hours.
Private Taxi Transfers
The minimum fare costs 4.00 euros with Tele Taxis, the official carrier, and a trip from Jerez de la Frontera city center locations costs, as a fixed fare, 25.00 euros with the company (tel +34 956 34 48 60). Shuttlespaintransfers.com offers their airport transfers from city centre locations for 26.40 euros, and from Novo Sancti Petri for 22.00 euros, from Chiclana de la Frontera for 22.00 euros, and from the village of El Puerto de Santa Maria for 42.26 euros. The taxi ride from city center locations in Jerez de la Frontera takes just 15 minutes to the airport. A trip from Cadiz costs 65.00 euros for two people sharing a private taxi.
Transfers from Seville, about one hour and 15 minutes away, cost ca 155.00 euros for two people sharing a taxi. Sharing a minibus costs ca 199.00 euros for up to 8 passengers. Various local companies offer their services. Ask for advice at your hotel, or pre-book return transfers from and to Jerez Airport here.
Parking at Jerez Airport
Jerez Airport has 397 car parking spaces available which can be booked in advance here, or via the official airport website or by contacting airport operators AENA, aenaaparcamientos@aena.es, Tel +34 913 21 000.
Stopping off to simply pick-up or dropping off passengers is free, provided your vehicle only stops for a few minutes to collect or drop off. Parking with a reservation starts at 9.00 euros per day, without a reservation the fee starts at 12.50 euros for a 24-hour period. The car park was designed for relatively short stays of 4 days or so. Parking for 5 days costs from 30.00 euros, when pre-booking, and from 50.00 euros without a reservation.
If you are planning to visit Cadiz province for the Motorcycling World Championships at the Motor Circuit of Jerez, it's essential to book parking well in advance, The circuit is not far from the airport, ca. A 12 minute drive via the A-382 or 19 minutes via the A-4 motorway.
Was your flight delayed or cancelled?
You may be eligible to receive up to 600 EUR compensation per person in your party..
Claim Now!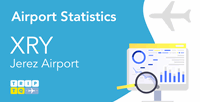 Jerez Airport Passenger Traffic Rebounds by 13.94% in Q3 2023 versus Q3 2020 and 2023 Figures - Pre-Pandemic Numbers Still A Challenge