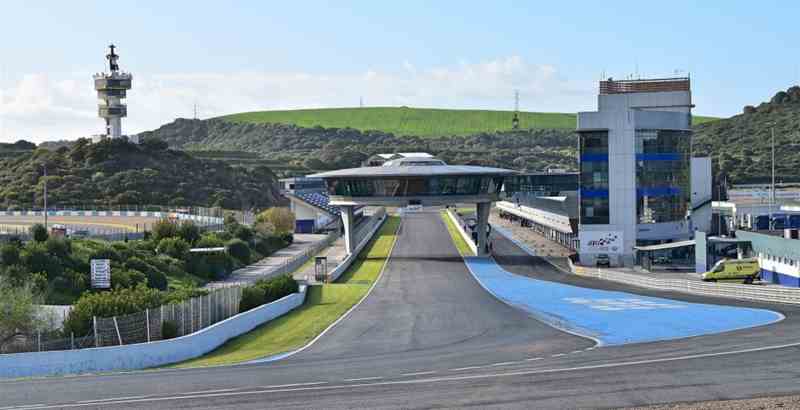 Jerez MotoGP and Formula 1 Circuit
Both Formula 1 and MotoGP riders use the Circuit of Jerez as a venue for team testing throughout the year. Located ca 14 km distance from Jerez Airport and just 10 km from Jerez de la Frontera city center, the Circuit of Jerez is situated in a spectacular landscape that enjoys over 3,200 hours of sunshine a year, namely in the beautiful province of Cadiz. The famous circuit offers MotoGP riders 5 left corners and 8 right corners that test their mettle to the limit. As for fans: the main streets of Jerez are turned into a fabulous celebration of motorbike riding, with parties going on every night and riders doing burnouts, drag races and wheelies to delight fans from around the world.
From the grandstands spectators have excellent views across the track and the Circuit of Jerez boasts facilities that make a visit not just enjoyable, but truly special for all who visit.
History of the Circuit of Jerez
The race track is 4.428 km long (with chicane) and the brain child of Spanish engineer Manuel Medina Lara and Alessandro Rocci. Located just 90 km of Sevilla, the circuit opened on 8th December 1985, hosting the first international motorcycle event in Spain the following year in March, and the Formula One Spanish Grand Prix in April of that year. It was an unforgettable opening of a racing circuit, featuring such legendary racing stars as Ayrton Senna in his Lotus Renault and Nigel Mansell in his William-Honda. Their dueling at the finishing line was decided by a 14 thousandths of a second in favour of Ayrton Senna, who became the first Formula 1 winner at Jerez.
The track boasts a selection of low, medium and fast speed curves that allow top competition teams, both F1 cars and MotoGP bikes, to work the mechanics in-depth. Due to the favourable climate in Cadiz province, the Circuit of Jerez can be used all year round.

How to get to the Circuit of Jerez
Linked to the rest of the world via nearby Jerez Airport, the circuit is easy to get to by air, bus, train and road.
A taxi stand is just outside the terminal at Jerez Airport. There are also numerous Intercity Buses from Jerez Airport. Estimated travel time to Jerez city centre is 30 minutes. Travelling to Cadiz from Jerez Airport takes ca 1 hour and 15 minutes.
Bus lines M-050 and M-53 cover the Cadiz-Jerez de la Frontera route, which stops at the airport too. Lines M-051 and M-052 cover the Cadiz-El Puerto de Santa Maria-Jerez de la Frontera route, also stopping at the airport. Line M-561 runs the Jerez de la Frontera to Sanlúcar to Chipiona to Costa Ballena route. Line M-964 covers the Chipiona-Sanlúcar de Barrameda-Jerez de la Frontera route, and Line M-70 and M-971 cover the Sanlúcar-Jerez de la Frontera route.
Jerez Airport links Spain with Austria (Vienna), Belgium (Brussels), Germany (Berlin, Bonn/Cologne, Dusseldorf, Frankfurt, Hamburg, Hannover, Munich), Luxemburg and Britain (London).
At the airport travelers bound for Jerez circuit can also take C-1 line trains into the city center. The airport is also linked with Cadiz and the rest of Andalusia, Madrid and numerous other Spanish cities via an extensive railway network.
How to get to the Circuit of Jerez by Road?
From Jerez de la Frontera spectators for any of the races should take Motorway A-382, the Jerez-Arcos-Antequera route, using exit 3 at 6-km. It takes ca 12 minutes to drive from the airport to the track via this route, and about 19 minutes taking the A-4 motorway from Jerez Airport.
What Races take place at the Circuit of Jerez?
Motorcycle Wold Championships and Formula 1's Spanish Grand Prix take place every year at the Circuit of Jerez, as well as various other motor sporting events.
After extensive remodeling in 2002, when the pit-lane and track safety requirements made upgrades imperative, Jerez's circuit received new pits, new VIP suites with views across the start line, a hospital, paddocks, run-off areas, a new main building, various new grandstands and a fantastic viewing platform overlooking the finishing line. The circuit also received a new media center which can accommodate at least 300 journalists and commentators.
The racing year kicked off in 2019 with the Test FIA Formula 2 event held from 26th to 28th February and was followed by the Fun Cup Race held from 9th to 10th March. From 24th to 25th May, the Circuit of Jerez hosted the VIII Ralley Ciudad de Jerez, which was part of the Andalusian Championships races.
The Motul World Superbike Championship takes place from 7th to 9th June, including the World Superbike, World Supersport and World Supersport 300 races. Various side events, such as Paddock Shows will also be staged at Jerez's circuit in 2019. Tickets are available that cover all three days of the races. Children aged 0 to 3 go free and kids aged 4 to 13 pay just half price on general tickets.
In September 2019, the Lamela Cup, booked in with a provisional date of the 7th to 8th September, will take place, to be followed on 14th and 15th September by the Touring Car Championship and Historic Championship. Promoted by the Spanish Automobile Federation, the new Spanish Touring Car Championship CET will allow fans to see many different competitive races with equalized mechanics. The Circuit will also be hosting events that star several categories of classic cars in the Historic Championships.
The World Final of the Lamborghini Super Trophy will take place at Jerez in 2019. Other editions of the event took place in Sepang in Malaysia in 2014, in Florida's Sebring in 2015, in Spain's Valencia in 2016 and in Imola, Italy, in 2018. Each of the Lamborghini event consists of six rounds for the Super Trophy held in Europe, Asia and North America. The last of these rounds is also scheduled to be held in Jerez during the same week as the World Final. The Circuit of Jerez will therefore see the pilots of the three continental series events of the Super Trophy compete for the title of Lamborghini World Champion in each of the 4 classes: Pro, Pro-Am, Am and Lamborghini Cup.
The racing year at Jerez ends with the Anniversary Trophy on 15th December, which is the final scoring round of the Andalusian series. Admission for fans will be free.
Important Websites:
Official site: http://www.circuitodejerez.com
Tourist board: http://www.andalucia.org/en/
Tickets for 2020's MotoGP are available from: https://www.bookmoto.com/mt-spain/
2019 events and prices are listed at https://gpticketshop.com/en/motogp/spanish-motogp/tickets.html.
UNBEATABLE VALUE CAR RENTAL

FREE
Amendments,
FREE
Cancellations,
NO
card fees!

airport_shuttle Need Airport Transfers?
Useful Information about Jerez Airport