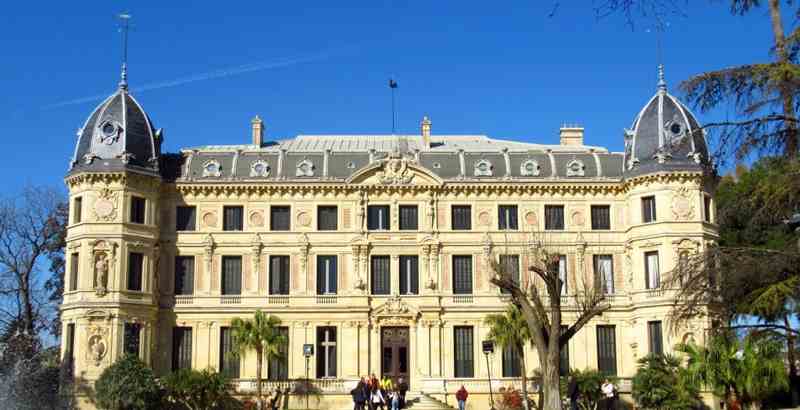 Jerez Tourist Attractions
Justly famous for its wonderful wines and sherry, its gorgeous white Andalusian horses and beautiful landscapes, the Cadiz province offers visitors a wealth of tourist attractions. Here is a small selection of tours available in and around Jerez de la Frontera:
Every year Jerez holds the Feria de Caballo, a must-see for equestrians. Andalusia is famous for its highly trained white horses, and a visit to the Royal Andalusian School of Equestrian Art at Ave Duque de Abrantes is unforgettable. The guided tour takes around 90 minutes, and includes a visit to one of the dancing horse shows. Rider and horse are totally in tune, performing to a range of choreographs, all set to traditional Spanish music, sometimes performed in 18th century style costumes. The school opened in 1973 and has wowed visitors ever since, whether you're a horse fanatic or not.
Jerez Sherry Winery and Tasting Tour
The Jerez region is home to the best sherries in the world, and tours allows wine lovers a chance to see some famous bodegas and sherry wine cellars: Sandemann, González Byass (Tio Pepe sherry), and Emilio Hidalgo's bodega. At the Real Tesoro winery visitors can also enjoy an art collection that includes works by Pablo Picasso. The tours include tastings and take ca 2 hours.
Ancient Monument Guided Tour Through Historic Jerez
The walking tour takes about 2 hours and includes a visit to the beautiful 11th century Alcázar fortress and gardens. The Moorish fortress in Calle Alameda Vieja is one of two stunning buildings in Jerez. The other monument is the Catedral de San Salvador, Jerez's beautiful cathedral. Built in the 17th century, the cathedral dominates Plaza Encarnacion. The tour starts from Plaza de Arenal and takes in the old town hall and the only surviving Gothic-Mudejar church in Jerez, the Church of San Dionisio on Plaza del Progreso.
Traditional Tapas Tour in Jerez
If you have two spare hours that want filling with food, try a traditional tapas tour of historic Jerez. The region was occupied by the Moors during the Middle Ages, and their culinary heritage has imprinted itself on local cuisine, leaving a rich and varied diet to the province of Cadiz. En route you can listen to local anecdotes and urban myths, enjoy the wonderfully mixed architecture and taste great food at some of the best tapas restaurants in the city. Try salt cod fritters (buñelos de bacalao) or fried rings of squid, or rabo de torro (ox tails stewed for hours, with Oloroso, red pepper, garlic and celery) or indulge in a plate of albóndigas (meatballs), also served with a sauce containing Oloroso, a local sherry variety. Meeting point is Arenal Square, in front of the equestrian monument.
Ronda and Setenil de las Bodegas Day Trip
Join an 8-hour minibus tour to the beautiful Serrania de Ronda, where the white-washed houses of one of southern Spain's most stunning historic hilltowns awaits your pleasure. Famous for its gorge, its amazing architecture and bullfighting tradition, Ronda is a must-see for all Andalusia visitors. The minivan can pick you up from hotels in Cádiz, Jerez and El Puerto de Santa María. Ronda is one of Spain's oldest cities, already old when the Romans got there. El Tajo gorge, through which the Guadalevin River flows through the center of town, and the backdrop of the Serrania de Ronda mountains make this day tour a highlight of a visit to southern Spain. Part of the tour is a visit to a bodega for a wine tasting.
Wine Tour of Serrania de Ronda
The famous Ronda Wines are served everywhere in Jerez, often as part of the food in sauces. Grown at altitudes of more than 750 metres above sea level, Serrania de Ronda wines include both white and red wines that are sold under the DO Sierras of Malaga label. White wines from the region are classified as Blanca Joven and Crianza, so good with seafood, fried and salted fish, and red wines are classified as Crianza and Tinto Joven. They are usually served with pork dishes or cheeses. Wineries in the area include Bodega Gonsalo Beltran, which produces organic Perzoso wine, made 100% from Syrah grapes. The winery sits just below the famous Rondo Gorge and offers pre-arranged visits. .
Chinchilla wines are made at the Bodega Doña Felisa, located to the north of Ronda en route to Ronda la Vieja along the MA7402. Pre-arranged visits are possible for groups of 5 to 25 people.
At Bodega F Schatz they produce only F Schatz wines. Also located north of Ronda along the MA7402, the bodega is open for pre-arranged visits too.
UNBEATABLE VALUE CAR RENTAL

FREE
Amendments,
FREE
Cancellations,
NO
card fees!

airport_shuttle Need Airport Transfers?
Useful Information about Jerez Airport